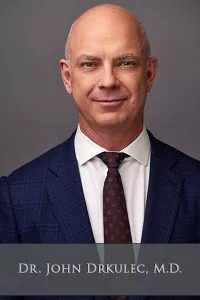 Provides sports medicine and orthopedic care
Over 20 years of Experience
Practices in the Mansfield and Midlothian locations
Since 2003, Dr. John Drkulec has consistently provided top-tier sports medicine and orthopedic care to the Mansfield, Grand Prairie, and Midlothian area.  In 2007, he spearheaded AOA's Mansfield location development, serving as the Head of the Orthopedic Surgery division at Mansfield Methodist Medical Center from 2007 until 2018. A fixture on the sidelines of area football games, he has also served as one of the main Sports Medicine Providers for MISD athletes and their families since 2007.
His portfolio of high-profile sports team physicianships continually expands. In 2019, Dr. Drkulec's reputation landed him as the team physician and lead surgeon for the XFL's Dallas Renegades. Additionally, Dr. Drkulec stays actively involved with the University of Texas in Arlington Mavericks Basketball, Baseball, Softball, Volleyball, and Track teams. Previously having served as the medical staple of the Grand Prairie Air Hogs Minor League team as well as both Men and Women's Big 12 Basketball Tournaments.Dr. Drkulec works tirelessly as a patient advocate – serving on the Board of Directors of AOA since 2016 and most recently elected the Medical Director of the Baylor Scott & White Orthopedic and Spine Hospital of Arlington.

In his free time, Dr. Drkulec finds a way to bring his medical and sports backgrounds to work for the community; coaching local youth soccer, basketball, and hockey teams.
Education & Training
1988 – 1990
University of Windsor, Windsor, Ontario, Canada, Dept. of Biology
Pre – Medical
1990 – 1994
University of Ottawa, Ottawa, Ontario, Canada, Degree of Medicine
Medical
1994 – 1999
University of Ottawa, Ottawa, Ontario, Canada, Orthopedic Surgery Residency (June 1999)
Residency
Program Director: Dr. Jay Jarvis
Fellowship: University of Western Ontario, Fowler / Kennedy Sports Medicine Clinic, London, Ontario, Canada. Fellowship in Sports Medicine & Arthroscopy. Program Director: Dr. Peter J. Fowler
1992. United States Medical Licensing Examination, Part I
1994. United States Medical Licensing Examination, Part II
1994. Licensure of the Medical Council of Canada, Part I
1996. Licensure of the Medical Council of Canada, Part II
1999. United States Medical Licensing Examination, Part III
1999. Royal College of Physicians & Surgeons, Orthopedic Surgery
2000. Certificate of Sports Medicine, Canada (CASM)
2002. American Board of Orthopedic Surgeons, Part I
2005. American Board of Orthopedic Surgeons, Part II
March 2002 – Present. Methodist Health System (Dallas). 1441 N. Beckley Avenue, Dallas, Texas 75203-1201. Active
July 2002 – Present. Duncanville Surgery Center. 1018 E. Wheatland Road, Duncanville, Texas 75116
February 2005 – Present. Medical Center of Arlington. 3301 Matlock Road, Arlington, Texas 76015. Active
October 2005 – Renaissance Hospital. 2929 South Hampton Road, Dallas, Texas 75224. Temporary
February 7, 2007 – Present. Surgery Center of Arlington. 2400 Matlock Road, Arlington, Texas 76015
February 2, 2010 – Baylor Orthopedic and Spine Hospital at Arlington. 707 Highlander Blvd., Arlington, TX 76015
Methodist Mansfield Medical Center. 2700 E Broad St, Mansfield, Texas 76063
American Academy of Orthopaedic Surgeons
American Board of Orthopaedic Surgery
American Medical Association
Texas Medical Association
Texas Orthopedic Association