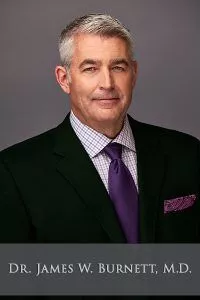 Board-certified in Orthopedic Surgery and Sports Medicine
Over 20 years of Experience
Practices at the Arlington Location
Originating from Lodi, California, Dr. James Burnett now specializes in Orthopedic Surgery and Sports Medicine at AOA Orthopedic Specialists and sits as the current Board President of the Organization.
Dr. Burnett completed Medical School in 1996 at Tulane Medical University (New Orleans), his Residency at Texas A&M University Scott & White Hospital (Temple, TX) in 2001, before serving our country as an Orthopaedic Surgeon in the United States Navy until 2004.
Dr. Burnett sees patients at the AOA Arlington location and has been frequently featured as a "Top Doc" in Tarrant County for exemplary surgical and patient care. As a board-certified Sports Medicine surgeon, Dr. Burnett is multi-accomplished surgeon and is currently affiliated with Baylor, Scott, and White Orthopedic and Spine Hospital at Arlington. In addition to speaking English, he also speaks Spanish.
Outside of his busy work life, Dr. Burnett enjoys relaxing at home, lifting weights, cross-training, going on vacation, and supporting his favorite football team, the Pittsburg Steelers.
Education & Training
1988-1992
University of California (Davis, CA)
Bachelor of Science – Biological Science
1992- 1996
Tulane Medical University (New Orleans, LA)
Doctor of Medicine
1996-1997
Texas A&M University, Scott & White Hospital (Temple, TX)
Orthopaedic Surgery Internship
1997-2001
Texas A&M University, Scott & White Hospital (Temple, TX)
Orthopaedic Surgery Residency
AOA Orthopedic Specialists (Arlington, TX) July 2004 – Present
U.S. Navy, Staff Orthopaedic Surgeon, U.S. Naval Hospital (Yokosuka, Japan) U.S. Naval Hospital (Bremerton, WA) July 2001-2004
American Board of Orthopaedic Surgery (July 2003)
American Board of Orthopaedic Surgery – Orthopaedic Sports Medicine – (November 9, 2007)
Texas Medical License (August 1997)
American Academy of Orthopaedic Surgeons
Texas State Medical Society
American Medical Association
Tarrant County Medical Association
Mensa
Baylor Scott & White Orthopedic and Spine Hospital at Arlington – Active Privileges
Oakridge School – Team Physician (2005-2015)
Timberview High School – Team Physician (2004-2005)
GW Brindley Foundation Resident Research Award (2001)
Caldwell Society Award: Excellence in Study of Orthopaedics (Tulane)
Alpha Omega Alpha Society (eligible 1996)