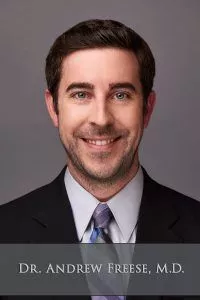 Specializes in Sports Medicine
Team physician for UTA Athletics
Practices in the Arlington, Irving and Dallas locations
Originally from Rockwall, Texas; Dr. Andrew Freese specializes in Sports Medicine in all ages at AOA Orthopedic Specialists.
After receiving his undergraduate degree in Biomedical Engineering in 2008, Dr. Freese graduated the University of Texas Medical Branch at Galveston. He completed his Residency in Orthopedic Surgery at Indiana University in 2017 and spent an additional year of specialty fellowship-training in Orthopedic Sports Medicine at the University of Iowa.
A lifelong Sports Fan and multi-sport Athlete, Dr. Freese proudly served as a Team Physician for the University of Iowa's football, basketball, and baseball athletic programs and will be working with University of Texas at Arlington as a Team Physician with AOA. He aims to support any and all athletic programs in North Texas as well as offers cutting-edge Sports Science approaches to complex Sports Injuries.